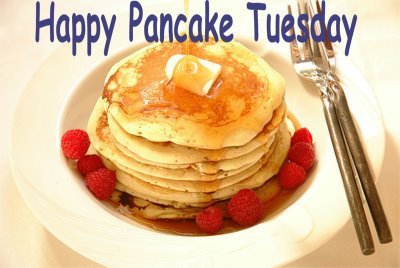 Hello all, today is Pancake Tuesday also known as Shrove Tuesday. Pancake Tuesday is the day before Ash Wednesday, the start of Lent. It is called Pancake Day because it is the day traditionally for eating pancakes  as a way to use up any  milk, butter and eggs which at one time were forbidden during the abstinence of Lent.
In Ireland, the family, and sometimes friends and neighbors, gathered around the fire which was often fueled in part by Christmas holly, which had been saved for this special day. The pancakes were baked over the fire and the honor of tossing the first pancake was given to the eldest, unmarried daughter of the host. If she could toss the pancake and get it back into the pan successfully,  legend said she would be married within the year. If she failed however she would remain single. Usually the mother would put her wedding ring into the batter for the first pancake and if the daughter was able to properly turn the pancake, she would immediately divide the cake into enough servings as there were guests. The person receiving the piece that contained the wedding ring was doubly fortunate – they'd be married that year and their choice of a spouse would be a good one. Wow who knew pancake making could be so stressful!
I will be making pancakes tonight for dinner. I do not have a daughter and my son is 14 and I am definitely NOT ready to give him up, so I will be doing all the cooking. . .
Irish Pancakes
Ingredients:
2 cups flour
1/2 tsp. salt
2 1/2 cups whole milk
2 eggs
1 oz. unsalted butter
Additional butter for frying
granulated sugar
lemon juice
Directions:
1. Beat the milk and eggs together in a bowl. In another bowl, sift the flour and salt together; add half the milk and egg mixture, stirring constantly.
2. Melt the butter and whisk it in. Whisk in the rest of the remaining milk and egg mixture.
3. Allow the batter to stand at least ten minutes and whisk again.
4. Melt 1 tbsp. butter in frying pan.  Pour about 1/4 cup of batter into the pan, tilting it from side to side to spread the batter all around in a thin layer. Cook for 1 to 2 minutes.  The pancake is ready to flip when the upper side is looking dry. Flip the pancake and cook the other side. If legends are true I am surprised I am not single because flipping is not my thing. This is usually an awkward turn over with a spatula but hopefully you will have more luck.
Finally, sprinkle with sugar and lemon juice, roll up and enjoy!