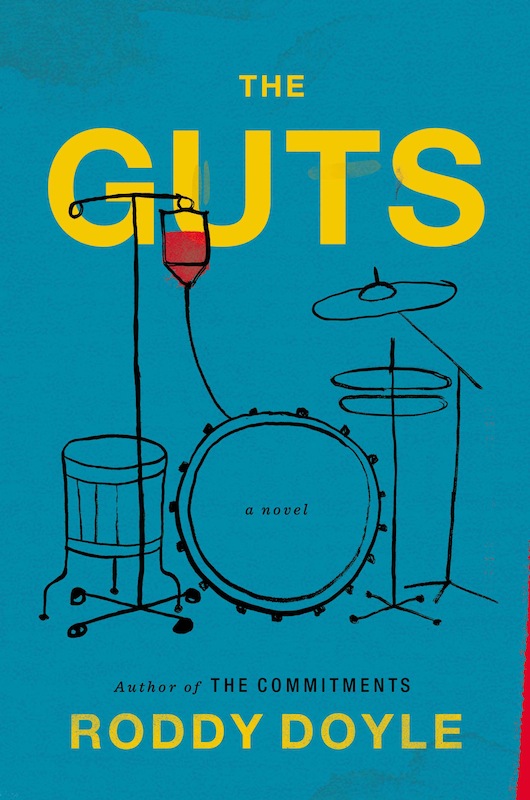 Today is yet another snow day here in New Jersey. I am a big baby when it comes to driving in the snow. Just the thought of having to drive in the snow brings on intense feelings of panic. If it had been a nice day I would have loved to go into Brooklyn to hear author Roddy Doyle an Irish novelist, dramatist and screenwriter speak about his new book, The Guts. In his newest novel, Doyle brings back Jimmy Rabbitte of The Commitments.
In the 1980s Jimmy Rabbitte formed the Commitments, a ragtag, blue-collar collective of Irish youths determined to bring the soul music stylings of James Brown and Percy Sledge to Dublin. Time proves a great equalizer for Jimmy as he's now approaching fifty with a loving wife, four kids, and a recent cancer diagnosis that leaves him feeling shattered and frightened.  As he battles his illness on his path through Dublin, Jimmy manages to reconnect with his own past, most notably Commitments guitarist Liam "Outspan" Foster and the still beautiful backup vocalist Imelda Quirk. Jimmy also learns the trumpet, reunites with his long-lost brother, and rediscovers the joys of fatherhood.
Roddy Doyle is the author of ten novels for adults, seven books for children, seven plays and screenplays, and dozens of short stories. Many of his books have been made into movies including one of my favorites, The Snapper.
If you feel like braving the snow head on over to The Powerhouse Arena in Brooklyn and see a wonderful writer who will have you laughing out loud.
 Brooklyn Book Launch: The Guts by Roddy Doyle, co-sponsored by the Irish Arts Center.
Wednesday Feb 05, 2014 7:00 pm – 9:00 pm
THE POWERHOUSE ARENA [Dumbo] 37 Main Street Brooklyn, NY 11201
For more information, please call 718.666.3049
RSVP appreciated: RSVP@powerHouseArena.com
 http://powerhousearena.com/events/book-launch-the-guts-by-roddy-doyle/